Joint sealing system
Sanitary areas such as bathrooms and toilets are important areas in a home for many people. Usually a considerable budget is made available to furnish these spaces completely according to your wishes. But this actually applies to sanitary areas in all buildings. It just has to be well organized and look nice.
Of course, the same applies to the joint sealing in these areas. There is nothing more annoying than a leak in a bathroom or a moldy sealant. The customer will undoubtedly contact you if either situation arises. These risks can be kept to a minimum with our Joint Sealing System. The application must of course be performed properly at all times and when used, the customer is responsible for maintenance. But with the PremTech products from this system you do use the best available quality.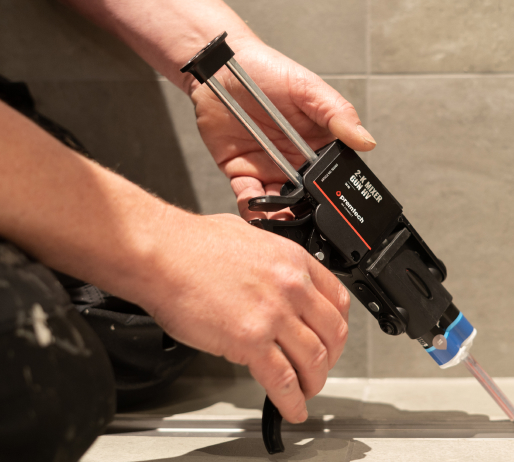 STEP 1

FINISHING THE SHOWER DRAIN

We have developed the DrainSeal to properly and safely finish a shower drain/drain. The DrainSeal is a 2-K epoxy with a flexibility of no less than 135%.

In addition, the DrainSeal is low in emissions and the product has a very long open processing time of 8 minutes. This makes it comparable to our PremSeal in terms of processing.

Make your surface clean, dry and free of grease. Finish the shower drain/drain with the Mixer-Gun HV. Tape off places where you do not want to apply DrainSeal with the Masking Tape Gold. After 30 minutes the joint can be loaded again.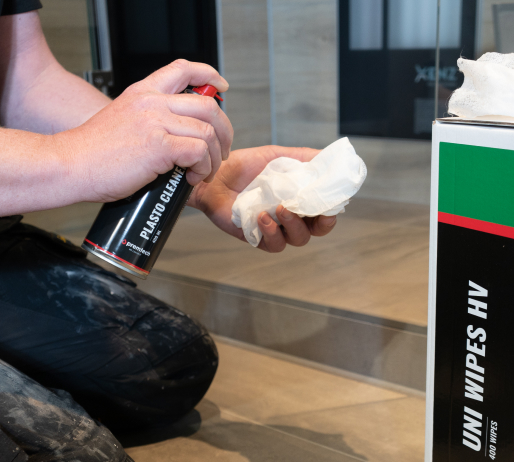 STEP 2

SUBSTRATE PREPARATION

The basis is the most important part for a good end result in almost every process. This is no different for the ''Joint Sealing System''.

Before sealing, the substrate must be clean, dry and free of grease. This applies to existing and new situations. In existing situations, old sealant and adhesive residues sometimes also have to be removed. To be able to do this in the right way, we have developed the UniSolve Spray. This product removes old sealant and glue residues and also degreases your surface. This means 2 applications with 1 product.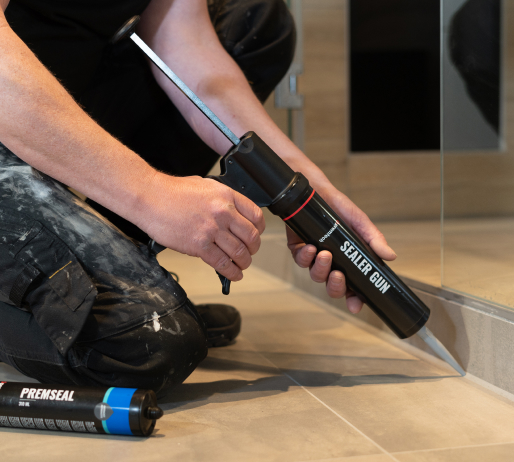 STEP 3

REALIZING SEALING

After the UniSolve Spray/Plasto Cleaner has evaporated, you can start applying the PremSeal.

The product has an elongation to break of no less than 560%, so that it can perfectly absorb various effects of the substrate. In addition, the PremSeal is very pleasant and easy to process due to its good stability and the product has a high chemical resistance. The PremSeal is available in various colours. In order to process the PremSeal as optimally as possible, we advise you to use the Sealer Gun. The unique transmission of this caulking gun ensures simple and very precise processing of the caulk.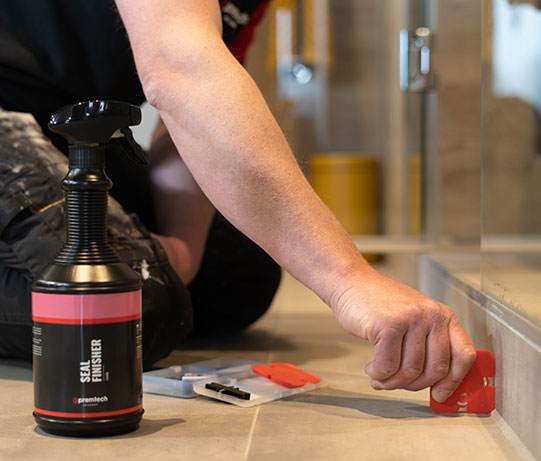 STEP 4

FINISHING THE PREMSEAL

After applying the PremSeal, the sealant should be sprayed with our Seal Finisher.

The Seal Finisher is a specially formulated liquid, which, unlike other types of liquids, is free of, among other things, solvents that could affect your sealant. After applying this scraping liquid, you can finish the whole thing with our Measuring Spatulas. These Afmes Spatulas have 16 different options, so that you have the perfect spatula at hand for every angle and in every situation.
Please note: when using the Seal Finisher on natural stone, you should always rinse the whole with plenty of water to prevent discoloration of the surface.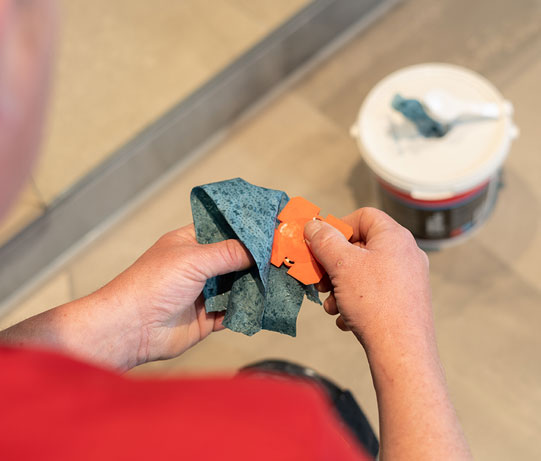 STEP 5

CLEANING YOUR TOOLS AND SUBSTRATE

When the complete sealing has been achieved, we advise you to clean your tools and the substrate, which were unexpectedly damaged
tampered with, can be cleaned with our Power & Care Wipes.

Power & Care Wipes are handy wipes that have been specially developed to clean your tools, surfaces and hands. These low-lint polypropylene cloths are enriched with Aloe Vera and remain moist for a long time during use. Be careful not to clean your face with these wipes. The cleansing power of these wipes works great on your hands, but they are too strong for your face.